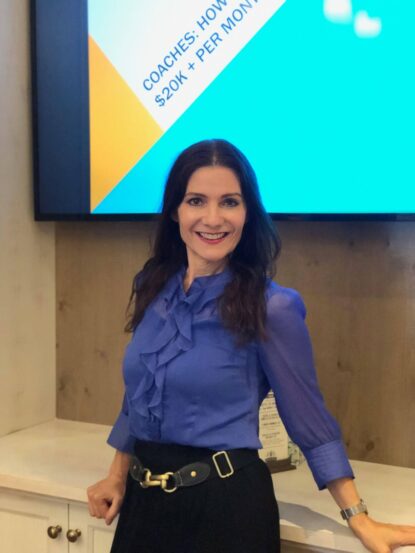 As an Online Business Coach…
I support coaches, consultants, experts and service providers with no-fluff guidance and training to see your ultimate success!
Hi! I'm Jeanne (pronounced Zhan), a Certified Business Strategist and Online Business Coach.
As a natural born motivator, encourager and voracious researcher and strategist, I became an online business coach to help you reach your success. I'm here to help my clients operate at their Ultimate Potential and Performance level.
I help people like you maximize profits while being the Visionary you're destined to be.
I consider myself merely as a catalyst.
I infuse my ICF Accreditation from Intelligent Leadership into all of trainings. So that my clients prosper, while being Leaders in their businesses and lives – no matter what the size of the business is.
My clients have something in common: smart, go-getters who want to fulfill their ultimate potential. Help their clients, scale their business to unimagined prosperity, heightened productivity, and lead a life with integrity.
As an online business coach, I choose to work with
Coaches, Consultants, Experts and Service Providers who are helpers, the Visionaries.  My team and I will teach you everything you need to maximize sales, while creating a forest fire of Influence.
Sharpen your decision-making skills, optimize productivity and step into your leadership as the CEO of your own business – whether you are a Solopreneur or have a team.
Our goal working together is to help you maximize and generate the highest profits possible for your business. When all is said and done, that is what your company should be doing – growing a vastly profitable business that excels and stays true to your vision and mission.
My team and I support that success through cutting edge training in
Social Media Marketing

Leadership

Communication

Mindset

Productivity and Personal Negotiation

Adaptability Quotient
My passion lies in helping professionals like you, find their sweet spot. Your "Genius Zone". To be regularly motivated to reach your highest excellence, while attaining sustained growth.
We work out the combination that works for you.
Each business has different needs. We tailor a strategy to your business so you can reach your goals without wasting time.
All coaching sessions are online. Accessible to anyone around the world who's serious about getting their business to the maximum potential.
If you are ready take action to see far-reaching results in your business or company as soon as possible, this is for you.
If you are ready to do whatever it takes to move from neutral to fifth gear and to take control of you and your company's future, then this is for you.
To get clarity on YOUR exact pathway to profits, find a time here, and me or one of my team members will get clarity on exactly what you need to do to scale your business!
Schedule a Free Business Strategy Session Today!
The first important thought I remember having was that "Anything Is Possible". My parents moving me and my nine siblings from California to Australia might have had something to do with this. I believe anything is possible and that people have the genius within them to find and live in their Genius
Zone… their Ultimate Potential without burnout and without burning those who surround them. I've had many prior careers
such as a Fashion Designer, Actress, Filmmaker, Executive Recruiter for Wall Street Players, Translator and even a Food Stylist! And I've explored and lived in many different countries and traveled extensively in Asia, Africa and Europe and ended up living in Paris for 6 years! And finally, I found a way to embody all of my training, abilities and experience to serve Business Visionaries by helping them realize their Ultimate Potential. And to help them realize that "Anything is Possible" That's MY Genius Zone.